Thomas Fowler's Thermosiphon

In 1823 Thomas Fowler patented the first convective heating system.
The diagram below is taken from his patent of 1823.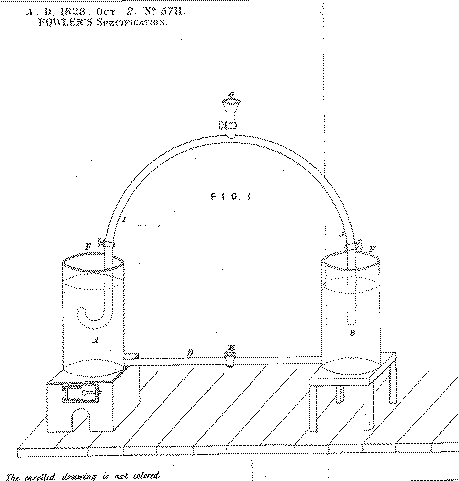 Operation of the themosiphon as described in the patent

Parts of the Themosiphon apparatus:


A and B are vessels containing water.
The tube I-J is the thermosiphon. It can be compared with a conventional siphon.
The end of the thermosiphon, which is in vessel A is bent upwards to prevent bubbles entering the system.
F and F are stop-cocks
G is for filling the apparatus.
D is pipe connecting vessels A and B.



To prepare the apparatus for action:


1. Close E.
2. Close F and F and open G.
3. Fill the thermosiphon through the funnel at G.
4. Close G and open F and F.
5. Repeat from 2 until all the air is out of the thermosiphon.



To start the thermosiphon:


1. Make sure G is closed and F and F are open.
2. Open E
3. Apply heat to A.

Example of a Roman Hypocaust

In 1823, when Fowler invented the Thermosiphon, the only other known convective heating system would have been the Hypocaust